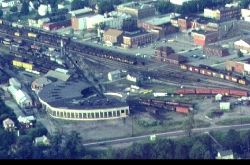 Welcome to the RRPictureArchives.NET contributor site of Charlie Pyles.

I'm really an aviation photographer selling all my 35mm collection of airplane slides on eBay right now. You can find me by clicking coldspringcharlie.

Because I decided to build the Western Maryland Yard in my hometown of Elkins, WV for my grandson, I often find myself trackside or looking for trains wherever I travel. The train thing really started when I was a small boy and the WM practically went through my lower yard on the way from Elkins to Cumberland, MD. My head was always turned upward though wondering what kind of airplane that was traversing the skies above. I was employed by Lake Central Airlines in 1963 and retired after many transitions and mergers from USAirways in mid 1999.

I formed Air Pix Aviation Photos in 1973 as an aviation photo source to hobbyists and businesses. I did aerial photography in the Tri-State area surrounding Cincinnati, OH. It was one of my aerials of the Elkins Yard in 1981 (not one of my best) through the window of a friends airplane that started me (20 odd years later to take on this HO project. Sometimes, you'll see my excess stuff on sale at eBay under user coldspringcharlie. You may find a bargain for your HO collection as I overbought LOTS at times just to get one piece I needed from the LOT.

Enjoy the photos that I shot just for you and thanks Tim Huemmer for providing the space to show them. Descriptions will me minimalist though. I can identify almost any airplane in the sky overhead but I don't know enough about trains to tell an F7 from an F3. I'm learning though and the pictures I have identified are from on line lookups...not what I know.


You may browse my collection of pictures via the menu located on the left hand side of the page. I hope you enjoy the collection and thanks for stopping by!
Note: This site is best viewed in Internet Explorer 6.0 or above.
Select one of the links from the menu on the left to begin browsing the collection.